Wow, so I had to hibernate for a full day before I could get my brain sufficiently together to face the fact that my book came out on Tuesday. You know what's a great place to hibernate? The National Gallery. I gave some family members the "just the highlights and snarky comments about Gauguin" tour. BTW I am beyond excited for Water, Wind, and Waves. But I digress.
My book party went WAY BETTER than expected. Here is a very short account:
I was insanely nervous, but my mom came and helped me get a bag full of the very best store brand Whole Foods snacking items to the library, and our car didn't break down, and all the other disaster scenarios I had envisioned failed to happen. At the library, I met just the nicest DCPL staff member, Derrell, and (I believe) Bonnie from Politics and Prose who were both very encouraging.
Then people showed up. Lots of people. We ended up having to add chairs, there were so many people. We literally ran out of books, there were so many people. Like, it wasn't a Taylor Swift concert, but it was definitely more people than I had anticipated.
The actual reading/questions section was too, too sick-making, but apparently fairly entertaining for everyone who wasn't me. As it turns out, I am not a terrible public speaker. I doubted this very much, but there's video evidence, and it appears against all odds to be true. And then there was a signing, and poof! We were done.
All in all, a success. As further evidence of success, there are quite a few pictures of me looking really uncomfortable when I know there's a camera, and really happy when I have no idea there's a camera and I'm just talking to my friends who came, and all the new friends I made. For example: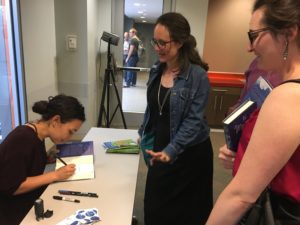 So, thank you everyone who came, and everyone who made this book launch a success. I'm so grateful, and I hope you like the book.