Post quality is going to suffer in the coming weeks as I try desperately to find the muse that abandoned me on the rocky cliffs of this draft and flitted off to go inspire someone a little less critical who drinks a lot less than I do. Come back, you fickle bitch!
Anyway, I don't know why I was thinking about this, but I don't think I shared this before: last year I went to the Andy Warhol museum and did one of their screen tests. You can see the whole thing here, but it's really just an agonizingly long video of me sitting and getting increasingly bored/uncomfortable/confused in black and white.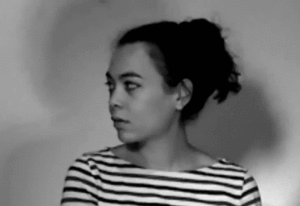 The product of these screen tests…I question its value. Andy Warhol had a whole "thing" he did, and this mock-up isn't really capturing that. But as a personal experiment I found it really interesting. Cameras are so aggressive, and I am painfully camera shy. Cameras make the idea of time so incredibly present for me because time, in a camera, is clicking past you frame by frame. And worse, they almost immediately make me feel outside of myself, looking at myself, imagining the camera seeing me. I really hate them.
Anyway, the museum is cool, and I loved his letraset, and hate his work less now that I've been there. It's amazing how many things I hate just from not knowing anything about them. I've never hated anything with which I've had a moment of true connection, achieved through study. There's a life lesson in there somewhere. And probably a lesson about my other great nemeses, Cary Grant and sports and beer.