I just read about this guy named Sevan Bicakci and his insane jewelry. The carved gemstones are, naturally, freaking incredible. I mean look at that mosque. It's like magic. But what really attracts me to this piece1 is the micromosaic details on the sides, and the shape of what looks like enamel flowers maybe on the sides as well.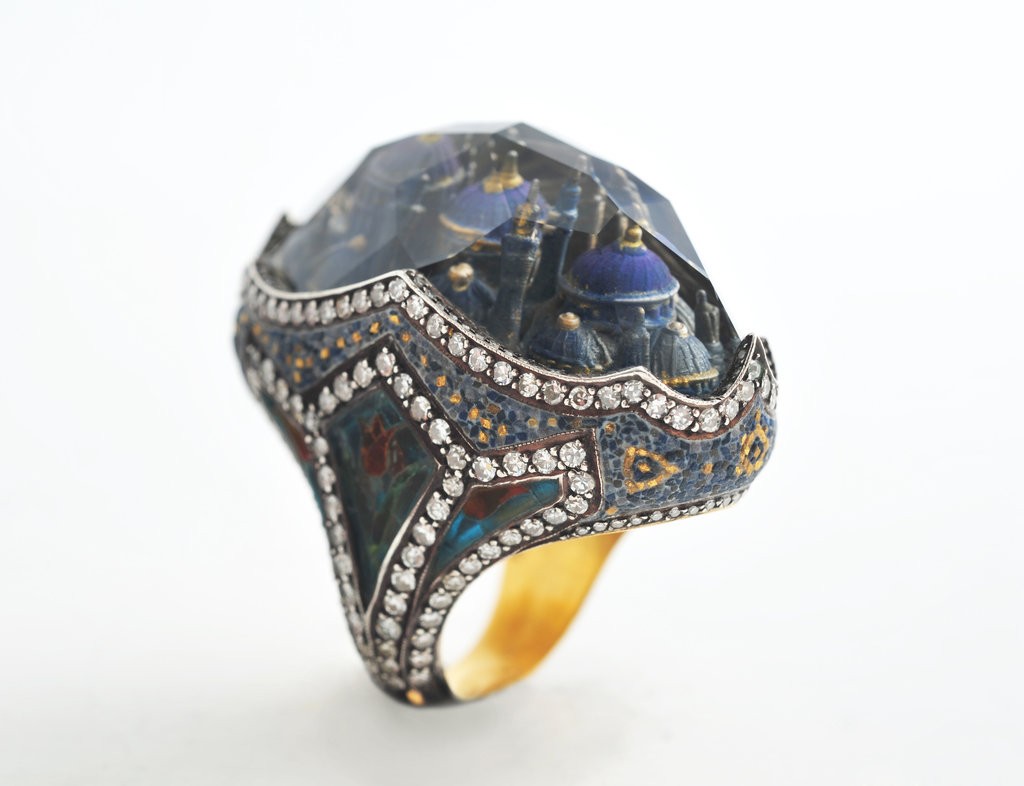 I'm always kind of torn on jewelry that is basically a work of art that, in a way, disregards the wearer. I prefer more abstract and natural things, because they usually emphasize you, not themselves, if that makes sense.2 At this volume of expression, this ring seems more like it's basically carrying around a thing you like to look at, like a picture. It's like the difference between wearing a t-shirt with a cute cat on it, vs. wearing a smartly tailored plain shirt. Both can be cool. God knows I have enough cat shirts to dress for the cat uprising. But the point of the t-shirt isn't beauty in the same way as the tailored shirt. A t-shirt can have something beautiful on it, while the tailored shirt makes the man who wears it beautiful.
But why should that be true of the gemstone on top, but not of the flowers on the sides? Like, what makes the flower a motif, and the mosque an image? Maybe it's just a matter of convention. Flowers draw no attention to themselves. And, weirdly, this same issue doesn't bother me in those ridiculous Lalique rings I like so much.3 So maybe the issue here is that this ring is unfamiliar to me, and I'm fairly well-versed in Art Nouveau's dialect of expression.
Anyway. Pretty ring.
We'll just go with "piece" because this is a thing I would never, ever even want to touch holy hell that thing should clearly just go directly into a glass box in a museum.