At long last, I have chosen the three races I will nervously 100% commit to next year. They are: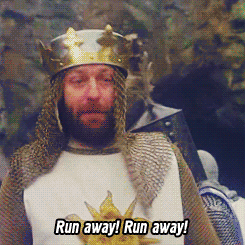 Rumpus in Bumpass (Ok?)
Ironman Eagleman 70.3 (Yeah, ok…)
Ironman Maryland 140.6 (What the fuck are you thinking???)
You may notice I've conveniently chosen things that are not going to require me to travel. That's because I'm lazy. Which is ironic here. Also because I think a few friends are going to come and maybe do the relay. I want to choose a few smaller races as well for practice, and I really want to do the Rock and Roll marathon or half, because basically every year I've lived in DC, that stupid event has somehow managed to be between me and the place I need to be that morning. This year, I want to be the traffic I have condemned. Also, it's good practice for handling crowds.
I also kind of want to try another marathon, but since there's a marathon at the end of an Ironman triathlon, I think maybe I should hold off on that. I might enter the lottery for the Marine Corps one when it opens in March, but that race will be after all this insanity.
Anyway, these are the three I'm going to try my hardest to do well at. Worst case scenario, I'm pretty happy with a goal of "just finishing" these three races, since each will be a first for me. But, after that experience with the marathon, I think I'll actually do better and be more confident if I have some basic idea of what a reasonable finishing time would be. Like, am I a 16 hour Ironman or a 12 hour Ironman? I'm 100% positive I can train to finish it, which is a new, marathon-boosted confidence I never had before. I'm just not sure how fast is reasonable. I think those are goals I'll need to set closer to the actual race.
Anyway, I'll probably post on Instagram about this stuff if you're into that. And, with these three races, I am looking forward to reviewing a metric fuckton of Lux Radio and classic movies here on this blog.